Meth's Cost to Communities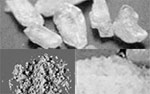 Meth Costs to Strangers
The connection between ID theft and Meth users is growing.  Is your financial future at stake?
 
Meth costs to businesses
$ Inventory loss and industrial theft
$ Increased insurance, security and increased workers compensation costs and claims.
$ Lower productivity of employees
$ Drug abuse related illnesses
$ Premature death of worker (addict)
$ Productivity loss of victims of addict's crimes
$ Shoplifting - especially of the key ingredients of Meth
$ University of Arkansas study shows each Meth user costs an employer an average of $47,500 every year.  FULL REPORT
Meth costs to families
Meth poses tremendous risks for those living with a user.  More and more often, Meth is a contributing factor in cases of domestic violence, child neglect and child abuse.  For more information on how Meth use and manufacturing impacts children's lives and welfare, visit our special section on Drug Endangered Children.

Meth costs to healthcare systems
$ Hospital and ambulatory care
$ Drug exposed infants
$ Dental care
$ HIV/AIDS
$ Hepatitis B and C
$ Crime victims' health care
$ Health care for addicts' children
$ The National Association of Counties analysis of Meth's impact on hospitals and emergency rooms
Meth costs to taxpayers
Between state and federal funding, the average cost of having a child in foster care is $21,092. 
Other costs to taxpayers:
$ Police, Fire and EMT Departments' time and training costs
  (Cost to attend a two-week long training is $6,000 per person)
$ Cost of specialized equipment
$ Hazmat suits - $100 each, discarded after one use
$ Disposable gloves - $100 per case
$ Toxic Fume detectors - $10,000 each
$ Lawyer fees - public defender starts at $94 an hour plus expenses
$ Jail/prison time and costs ($30,000+ per year average with minimal medical expenses. Generally, inmates who have been regular Meth users cost more due to higher dental care costs and other health issues.)
Meth costs to the environment
$ Lab clean up: High volume sites average $5,000 to clean up a large lab, but costs can run as high as $20,000 to complete property demolition.
$ One pot labs are generally not found, or cleaned. Toxic wastes dumped down drains, in storm sewers, in dumpsters, on the ground or along roadsides.
$ Removal of topsoil in dumpsite clean up, at landowners expense.
Meth costs to communities
$ Increased crime, including stealing to obtain money for Meth, property damage and loss due to fires, motor vehicle accidents and assaults.
$ Meth Arrests up 1100%
$ Land lords/home owners responsibility to clean after a lab bust, including shampooing or replacing carpets, painting or replacing drywall, cleaning or replacing appliances. For more information on these legally mandated responsibilities, visit our special section, Information for Realtors.
$ Increased pressure on schools (providing special education for Meth babies or for children living in a Meth home/lab).
$ Increased pressure on Social Services system, including in-home or therapeutic foster care placement for children taken from Meth homes/labs.
$ The National Association of Counties analysis of Meth's impact on law enforcement and social services
Click here to enter the full MAPPSD website and archives.